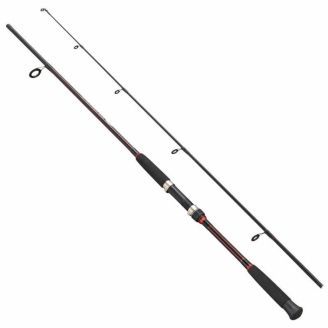 The new XTC Fishing Rod series from Fladen brings quality composite rods with very attractive price tags. Excellent choice for most fishermen who are looking for an easy to use and very good looking rod in this price range. The rod has an split grip handle, which guarantees the right kind of grip.

The split grip has been the most notable trend in fishing rod design over the past years. It's not just a visual appeal as many might think - it has a purpose: less handle material (cork or foam) means less overall weight and lighter is always better. Lighter rod is easier to handle, you can use it more accurately and cast longer. It is because this design provides a superior fulcrum point and helps you force the rod blank to load like it was designed to.

Guides are abrasion resistant composite and the handle foam padding has a nice feeling on it.
XTC Composite rod 240 cm
Breaks down into 2 pieces
Split Grip handle with foam padding
Attractive looks
New rod series from Fladen
Fladen XTC Spinning Reel Rod Bronze 240cm
15,92 €
(19,90 €)